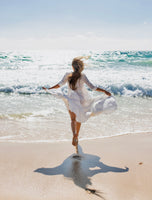 Welcome to Fox & Wren
Fox & Wren has been created with the intention to inspire people to live connected to the Earth and themselves.
Driven by a deep respect for nature, I endeavour to offer ethically and sustainably sourced products to support you on your journey towards a more natural and conscious way of living.
Explore my favourite conscious lifestyle essentials for Mind, Body and Spirit.
Eloisa xx
Explore
Testimonials
I have purchased from Fox & Wren twice now. Both times Eloisa was on hand to readily answer any of my questions as well as providing extra photos and videos to help with the decision making process. Her kindness and the care and attention she takes in choosing pieces on her website transcends to the way in which she lovingly wraps and packages your parcel, sending it on its way to its new home. Thank you so much 💓

Jo
I would like to give 5 stars to Eloisa from Fox & Wren lifestyle store and highly recommend her. The candles, crystal tealight holders, essential oils, crystals and jewellery are simply stunning. She is also an amazing Reiki healer with the most caring nature and is so passionate about natural healing and a conscious way of living. Highly recommend Eloisa from Fox & Wren.

Kimberly
Thank you Eloisa for introducing me to your wonderful Fox & Wren store - from your amazing array of crystals, oracle cards, books, jewellery and eco-friendly products right down to your beautiful packaging. I can't wait to make my next purchase.

Your #1 Happy Customer

Allison
Fox & Wren has provided me with some of my most precious and sacred gems, scents and oracle cards. Eloisa's care, knowledge and time taken to gather each piece for this website has come from her heart. I love using all my products and have also purchased some beautiful gifts for friends and family. Thank you for sourcing such beautiful products.

Lasey
Eloisa is someone who will not compromise on her standards, her truth, or kindness from her heart. From this ethos...Fox & Wren was born, combining her passion for using natural products for healing, peace and creating a quiet sense of inner joy. This has been a huge project of love for Eloisa, using her intuition and amazing healing wisdom. Thank you Fox & Wren!

Michelle
Eloisa has done such a beautiful job of bringing Fox & Wren to fruition. The level of thought, care and intent that has gone into cultivating each piece is abundantly clear and makes shopping for the perfect piece a breeze. Her knowledge of all things conscious living is absolutely extraordinary and it is exciting to see what's to come!

Paige